Over the past decade, yoga has gained popularity globally as a form of fitness activity, especially in North America. Yoga is growing in popularity, especially in the United States and Canada. People choose yoga and meditation for a variety of reasons, including stress relief, increased flexibility, general health, and overall health development. This rising awareness has impacted the sales of yoga wear, yoga equipment, and accessories across the globe.
So, in this post, I will tell you where yoga clothing retailers can find the best yoga wear manufacturers. Check out the list below.
Here Are 10 Yoga wear manufacturers You're Going to Love
In no particular order, these 10 Yoga wear manufacturers are each unique, high-quality, and as practical as they are fashionable. Read on to learn what makes each yoga and activewear brand unique, and hopefully discover a few Yoga wear manufacturers along the way!
Jingqi Apparel
Jingqi Apparel is an emerging clothing designer brand based in China. They leverage technology, design, and art to create stunning and useful activewear for the fitness community. They design women's workout clothes and also men's. By providing their customers deal-breaking garments, they have a track record of being one of the best international wholesale fitness clothing suppliers. With the help of their cost-effective custom yoga clothing solution for bulk buyers, they are able to give one of the best private label services in the fitness industry.
Product Range: Custom  hoodies, fitness jacket, athletic wear, fitness shorts, fitness shirt, gym leggings, activewear clothing, bodybuilding garment, ladies gym tops, sports bras, blank fitness apparel, unbranded gym clothing, etc.
Address: Dongguan City, Guangdong, PRC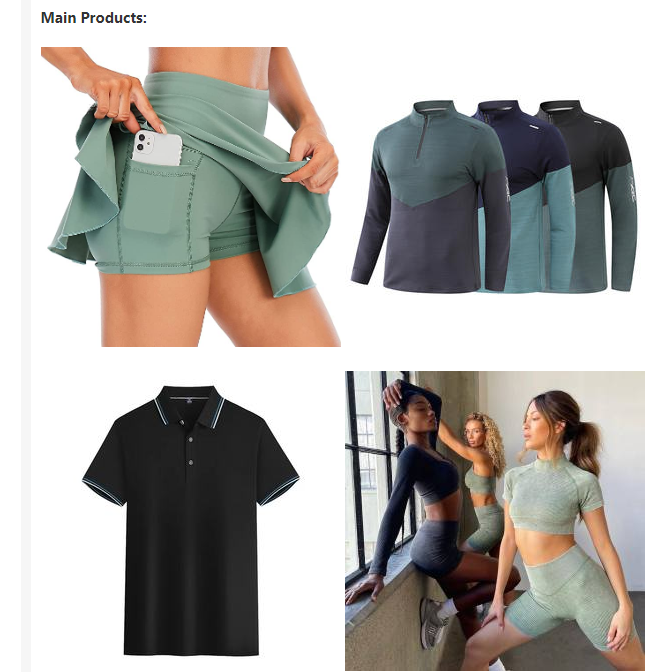 Click here to contact the best yoga wear manufacturer in China
GUANGZHOU SWIFT CLOTHING CO. LTD
Our company is specialized in leisure clothing and sportswear , the annual capacity combine with the shared workshop has reached over 10 millions piece. the goods includes the outdoors sportswear, T-shirt, polo shirt , golf shirt , leisure pants and trousers , yoga clothing, fitness clothing and so on. The customer crowd mainly involves Southeast Asia, European, North America and the Middle East. The production can be organized according to the sample, the picture, and the photo of the sample
Address:panyu, guangzhou, guangdong, China
Guangzhou MiKi Apparel Co., Ltd.
Our factory is located in Guangzhou. We are proud of our 100 trained employees and 15 engineers and designers. We own more than 300 world-advanced sewing machines and facilities. Such resources enable us to stock USD 200,000 worth of fabric to feed any of your order demands. Our supply ability is about 40,000 pieces per month. Our annual sales revenue is about USD 2 million, with an average increase rate of 30% per year.
Address:BaiYun guangzhou China
Main Products:Yoga Wear, Yoga Clothing, Yoga Pants, Yoga Leggings, Sports Bra, Fitness/Yoga Tank Top,
Request A Quote with the best yoga wear manufacturer in China

Targocean Sports Co Ltd
Targocean is a profesional manufacture of Yoga clothing and sports product in China.We design,produce,sales for ourselves.Welcome to check our web and contact with us.Thanks.
Address:Chenghai district Shantou, Guangdong
Main Products:Yoga Clothing, Sports
Xiamen New Hongen Sports Co., Ltd.
Xiamen New Hongen Sports Co., Ltd. is based on Xiamen City, Fujian Province, P.R. China, and our own factory, located in Dongguan City, Guangdong Province, P.R. China, is professional at producing various kinds of sublimation sportswear. New Hongen is a manufacturer which is specialized in making casual wear, and our main products are Jerseys, Cycling Wear, Triathlon Jerseys, Running Wear, Badminton Wear, Tennis Wear, Basketball Uniform, Soccer Jerseys, Tracksuits, hoodie, T-shirts, Polo Shirts and other related products.
Our company was established in 2006. "Strive for survival on the basis of quality, strive for development on the basis of technology, strive for customer satisfaction on the basis of excellent service" is our consistent management philosophy. Customer's satisfaction is our great honor, and all our staff will do their utmost to work for you. Our serious and responsible working attitude has achieved lots of domestic and overseas customers' support and trust, and our high-class products have been exported to Europe, Southeast Asia and other countries and regions.
We warmly welcome domestic and overseas friends to come to visit our company for business and look forward to cooperating
Address: Building B , 3F, Tangjiao Road No.24 ,Tangjiao Village, Changping Town ,Dongguan ,Guangdong ,China
Lijin Lai Apparel
Shenzhen Lijin Lai Apparel Co. Ltd. is Yoga running pants, sports underwear vest, cycling wear, basketball clothing, sports clothing products such as professional production and processing companies, has a complete and scientific quality management system. Shenzhen Lijin apparel Co., integrity, strength and quality of products recognized by the industry. Welcome friends from all circles to visit, guidance and business negotiation.
Address:Minzhi Shenzhen, Guangdong
ShangHai Luli Fama Fashion Co., Ltd
ShangHai Luli Fama Fashion Co., Ltd specializes in knitted garments including swimsuit, aerobic dress, yoga clothes, ***** Our headquarter is located in the most prosperous business center of ShanghaiâWest Nanjing Road Business district, and the manufacturing basis lies in Jinjiang Fujian, the manufacturing center of Chinese swimsuit and fitness clothes. At present, we already have 33 selling network scattered throughout China.We have our own R&D department and world famous designer to work out the fittest clothes for all of you for âCreating both fashionable and healthy life âis our brand belief. We constantly stick to the management principle of âStrive for survival on the basis of quality, seek for development on the basis of honestyâ, and provide excellent service for our customers.
Beijing Yilong Yunxi Trading Co., Ltd.
Cooperation with Prominent Domestic CompaniesWe have enjoyed stable relationships with several domestic research institutes and big enterprises. Through joint development, the IC card module type IV card tables such as water meters, electric meters, gas meters and heat meter cards, and the IC card billing systems such as heating science and technology energy-saving building products obtained two patents.
Dongguan Baiao Industrial
Dongguan Baiao Industrial is a well-known activewear manufacturer established in 2016 in China. By manufacturing this activewear and sportswear, they have an output annually of more than 20 million USD. They export their apparel to all parts of the world, including Europe, Southeast Asia, and North America. They produce high-quality products which are strictly guaranteed by 100% inspection of quality control. Some popular products include training shorts, tank tops, sports bras, yoga wear, sports shoes, sweatsuits for gyms, dry-fit t-shirts, and many more. All the apparel is made to keep the body cool and sweat-free during heavy workouts.
Request A Quote with the best yoga wear manufacturer in China
conclusion
Yoga is a great way to relax and de-stress, but it can be hard to find a yoga clothing manufacturers that meets your standards. I've compiled a list of yoga clothing manufacturers that offer high quality at affordable prices. Whether you're looking for stylish clothes or comfortable gear to help you practice at your best, these yoga clothing makers are sure to have what you need. Thanks for reading!
List of Top 10 Yoga Wear Manufacturers in China