There are many sportswear manufacturers in China. Finding a good one can be challenging. It's a must to choose a processing factory that can offer high quality products and can provide you with a long term business partnership.
The sportswear industry is booming. China is the world's leading manufacturer of sporting goods. With the growing demand for sportswear, there are now more and more sportswear manufacturers. However, finding a good one can be challenging. Fortunately, we are here to help.
We searched and listed sportswear manufacturers in China and delved into the specifics of private label and custom sportswear.
Below are the top 10 best sportswear manufacturers in China that you must check out if you are looking for one for your business. Read on to learn more about product customization, material specifications and production clusters.
Jingqi apparel
Jingqi Apparel has been a trusted sportswear manufacturer since 2009, committed to supplying high-quality sportswear to the global market. .
If you are looking for a sportswear manufacturer for your private label sportswear business needs, you can contact Jingqi Apparel.
Jingqi Apparel's goal is to inspire more people to enjoy sports and participate in fitness and health activities by providing unique workout apparel. Through quality fabrics, cutting-edge apparel design, and manufacturing excellence, they aim to become the premier manufacturer of fitness apparel worldwide.
Location: Dongguan,Guangdong, China
Products Offered: hoodie, Fitness clothing, Tshirts, Gym pants, Men's shorts, Women's leggings ,Private clothing customization
Dongguan Humen Hucai Sportswear
Location: Dongguan Guangdong
Dongguan Humen Hucai Sportswear was established in 1998. The company is a manufacturer and exporter of gym wear, fitness clothing, and workout apparel for men and women.
The company offers comprehensive private label services according to the requirements of the customers, including design, sample development, manufacturing, and labeling.
Customers can choose customizable printing and embroidery techniques such as water-based printing, plastisol, cracking, and more.
FITO
Location: Ningbo, China
Fito is a reputable sportswear manufacturer that annually wholesales a variety of sportswear styles to customers abroad. On this page, you'll discover the most well-liked and cozy sportswear items. Naturally, they can also tailor their exercise and fitness advice to your needs and add your own logo and label.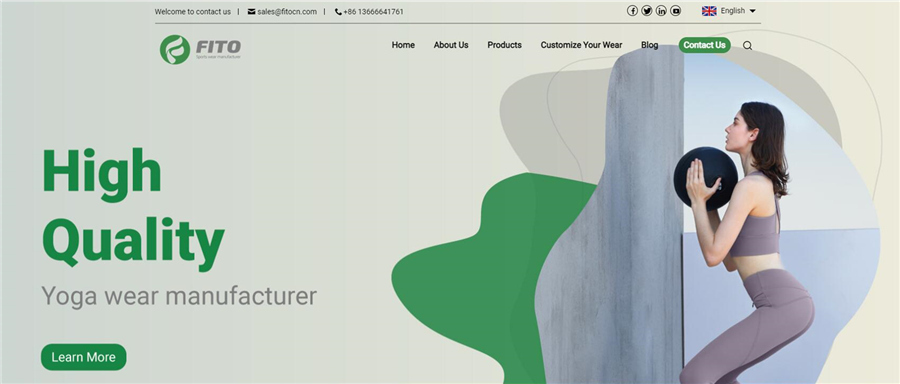 Shenzhen Hongxinqi Clothing
Location: Shenzhen Guangdong
Shenzhen Hongxinqi Clothing was established in 2003 in Shenzhen and specializes in making high-quality golf sportswear for high-end customers and private labels. These products include golf shirts, pants, golf suits, gilets, and pullovers.
The factory of Shenzhen Hongxinqi Clothing covers an area of more than 5,000 square meters, with more than 88 staff working in it.
YOTEX
Location: Shanghai, China
Yotex Apparel is one of the fast-growing clothing manufacturers in China, providing ODM&OEM one-stop full package service among the US, CA, and European markets since 2015.The most advantage is technical fabric handling with all kinds of print tech like foil, reflective, digital print, etc.
AIKA
Location: Humen Town, Dongguan, China
AIKA  Apparel Co, Ltd. is located in Dongguan City, Guangdong Province. They are a professional OEM sportswear Manufacturer with more than 10 Years' experience. High Quality, High Service, High Efficiency are their main factory culture .
Yiwu Fashion Norway Technology Share
Location: yiwu, China
Yiwu Fashion Norway Technology Share is a professional garment manufacturer specialized in research and design, production, and export of fitness clothes such as yoga wear, aerobic exercise, and cycling wear.
The company offers full customization services for its sportswear products. Customers can use their original designs or the ODM design from the company, which has more than a few hundred styles for leggings, tops, and bras.
In particular, the company designs maternity sports innerwear for ladies, which incorporate comfort with sporty elements together, providing young mothers' extra support and care while exercising.
conclusion
These days, the activewear industry is highly competitive and everyone wants the best, yet it is difficult for many to find top activewear manufacturers. We hope you find useful information in this list of Chinese sportswear manufacturers.
You can also contact us if you need to buy premium sportswear with a MOQ (what is MOQ) of 50 pcs. Propel your business and provide your clients with the best possible service with high quality sportswear custom made by us.
List of 10 Best Sportswear Manufacturers in China