If you are looking for a swimwear manufacturer in China, then you have come to the right place. China has a huge range of swimwear manufacturers and one of the best ways to find the best is to browse through their profile. Check out their services, reviews, and ratings before you contract with them. You should also look for swimwear manufacturers who are eco-friendly, as you will want to use environmentally friendly materials and products.
There are a number of leading Swimwear Manufacturers in China. Each one has a diverse product line and different ways to sell them. Some companies specialize in specific markets and offer a wide range of services to their clients. Some of these services include customer inquiry, fabric selection, design style, cutting size, pattern making, and bulk orders. Some of them are highly specialized in particular types of swimsuits, while others focus on a range of products.
Jingqi apparel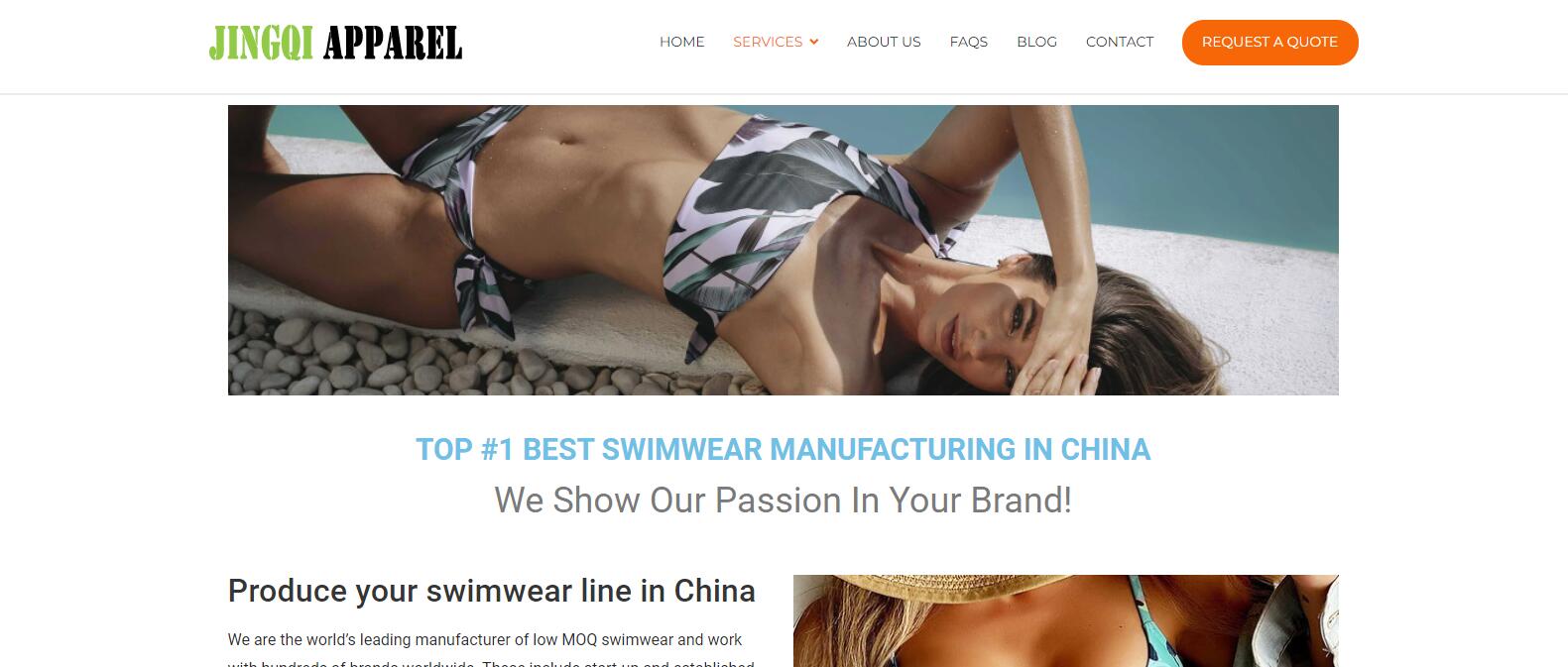 As one of the best custom swimwear manufacturers in China
jingqi apparel, a swimsuit manufacturer, customizes a wide variety of swimwear as per customers' requirements.
MOQ 50pcs/color. Provide a private label customization service.
Our headquarters are located in Humen Town, Dongguan City, Guangdong Province, China. As one of the leading swimwear manufacturers, we are here to provide retailers and business owners with tailor-made custom design solutions for bulk swimwear. Choose your design, style, material and we'll be happy to ship your personalized order seamlessly. We specialize in producing products crafted by our team of experts.
Unjoy swimwear limited
The factory of Unjoy swimwear limited is located in a 3000 square meter area and it houses over 300 machines. The factory is a trusted supplier to many famous brands. It has a production capacity of over 480000 pieces per annum. It was founded in 2008 and started its business with bathing suits and professional swimwear. Later on, it expanded its products to include yoga wear and other sportswear. The factory is known for its innovation and development.
The factory also produces bikinis, sportswear, and underwear. It uses high-tech sewing machines and has a team of experienced employees. It is the oldest swimwear manufacturer in China, having been in business for over thirty years. The factory produces over 300,000 pieces per month and has been serving millions of customers since then. The factory offers a wide range of products for women and men, and also manufactures a wide variety of high-quality underwear brands. The factory can also customize the production according to customers' requirements.
Shenyang Freehoo Trading Co., Ltd
Shenyang Freehoo Trading Company Ltd is a professional manufacturer of swimwear, offering a variety of different styles. This company also provides outstanding service to their customers. The company's factory is located in China's swimwear production hub of Xingcheng City. The company focuses on providing high-quality swimwear at competitive prices.
Shanghai Jspeed
A swimsuit manufacturer is a company that makes products for women and men. They can produce one-piece swimsuits, bikinis, bodysuits, and even sportswear. In addition to swimwear, these companies also make undergarments and sleepwear. Some of them also specialize in private label swimwear.
Dongguan Xinguan Swimwear Co., Ltd. is a swimwear manufacturer in China. Founded in 2001, this company manufactures and distributes a variety of swimwear. They also produce yoga wear and offer other products. They are based in Guangdong Province.
Kiniki Factory
Kiniki Factory is based in Staffordshire, England and produces all kinds of swimwear and underwear. The company is unique in that they do everything under one roof, from fabric sourcing to production and delivery. Its seamstresses are highly trained and produce a flawless finished product. The company also provides excellent customer service.
Founded in 1993, Swimwear Factory has been serving millions of customers worldwide for more than two decades. Their production capacity is over 300,000 pieces per month. The company also offers private labeling and customization services to its clients.
Xingcheng Modern Golden Age Swimwear
Established in 1996, Xingcheng Modern Golden Age Swimsuit Co. Ltd is one of the most renowned manufacturers of swimming wear in China. Their products include bikinis, swimsuits, and beachwear. They manufacture their products with high-quality fabrics and stylish designs.
The company has been in business for over a decade and has over 250,000 units per month. The factory is located in Dongguan and covers an area of 15,000 square meters. Another manufacturer, the Legend Swimwear Factory, is based in Hong Kong. It employs a team of marketing and sales executives in Hong Kong and has factories in Guangdong, Foshan, and Vietnam.
When you're looking for swimwear manufacturers in China, remember to look for companies that offer the best services. These companies offer premium quality products at a reasonable price. They also offer the right sizes and excellent customer service. Whether you're looking for custom swimwear or ready-made swimwear, there's a manufacturer for you.
List of Top 10 Swimwear Manufacturers in China