Swimsuit is one of the clothes we usually wear when we go out for leisure swimming. A beautiful swimsuit can attract the attention of many people. The fabric of swimsuits is very important for us to wear and swim. The fabrics that swimsuit manufacturers often use are DuPont Lycra, Nylon, and Polyester. Among them, DuPont Lycra, which contains anti-chlorine ingredients, will make the swimsuit have a longer service life than ordinary swimsuits.
1. Lycra
Lycra (LYCRA) is a man-made elastic fiber with the best elasticity. It can be freely stretched 4 to 7 times, and after the external force is released, it quickly returns to its original length and has excellent stretch. It is suitable for blending with various fibers, which can enhance the advantages of texture drop and wrinkle resistance. DuPont Lycra, which contains anti-chlorine ingredients, will make swimwear have a longer life than ordinary swimsuits.
2. Nylon fabric
2. Nylon fabric
Fabrics obtained by blending or interlacing nylon filaments or staple fibers with other fibers have both the characteristics and strengths of each fiber. Such as viscose/jin gabardine, it is made of 15% nylon and 85% viscose blended yarn. It has the characteristics of twice the warp density than the weft density, the texture of the cloth is thick, and it is tough and durable. Wrinkled, wet strength decreased, easy to sag when worn. In addition, there are also varieties of sticky/brocade varnish, sticky/brocade/wool tweed, etc., which are some commonly used fabrics.
3. Polyester fabric
Polyester fabric is a kind of chemical fiber clothing fabric used in daily life. Its biggest advantage is that it has good wrinkle resistance and shape retention, so it is suitable for outerwear.
Polyester fabrics have poor hygroscopicity, feel stuffy when worn, and are prone to static electricity and dust, which affects appearance and comfort. However, it is very easy to dry after washing, and the wet strength hardly decreases, and it does not deform. It has good wash and wear performance.
Polyester fabric has high strength and elastic recovery, so it is durable, wrinkle-resistant and easy-to-press.
The light fastness of polyester fabric is better than that of acrylic fiber, and its light fastness is better than that of natural fiber fabric. In particular, the light fastness behind the glass is very good, almost on par with acrylic.
Polyester fabrics have good resistance to various chemicals. Acids and alkalis are not very damaging to them, and they are not afraid of molds and insects.
Polyester is the most heat-resistant fabric in synthetic fabrics. It has thermoplastic properties and can be made into pleated skirts with long-lasting pleats. At the same time, polyester fabric has poor melting resistance, and it is easy to form holes when encountering soot, sparks, etc. Therefore, try to avoid contact with cigarette butts, sparks, etc. when wearing.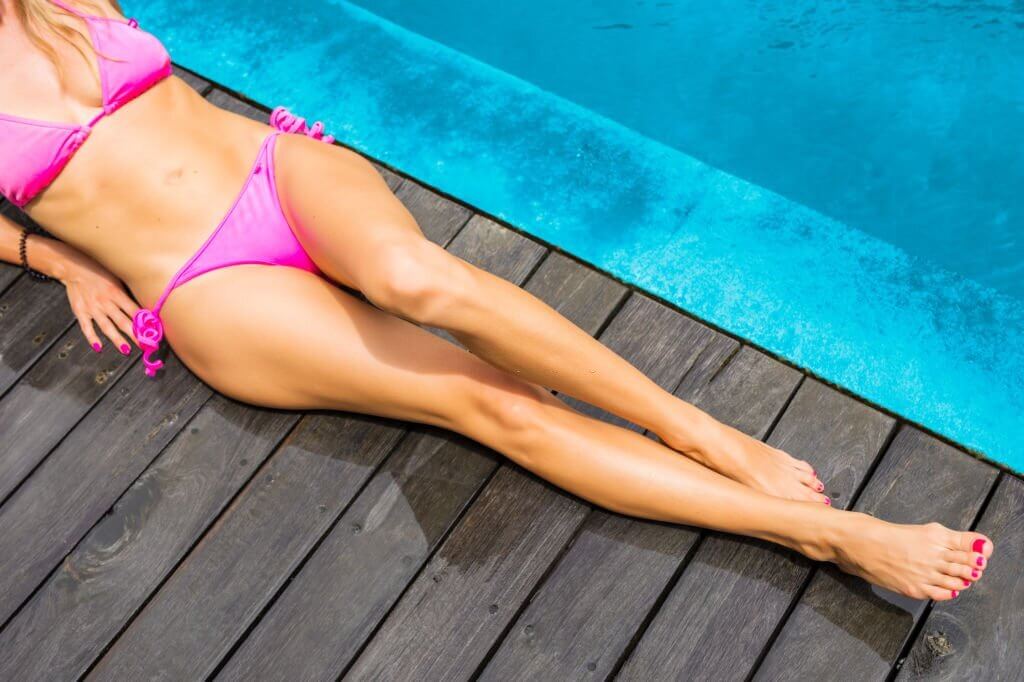 What swimsuit fabric lasts longest?
Polyester texture has overwhelmed the competitive swimwear industry for a very long time. Whether mixed with Lycra or without help from anyone else, polyester is the main fabric for serious swimwear. New advances in polyester have worked on the hand and feel of the material, permitting it to outperform different textures. Polyester holds its tone and is impervious to chlorine.
Types of Swimsuit Fabrics